APPI-Com is a Long Range Wireless Intercom (around 3800 m) for professionals, for the whole team: from 2 to 10 people or more! Bluetooth connectivity, small size and great ease of use makes it the product not only suited for professionals but also for sports enthusiast and recreations.
APPI-Com radios allow for a natural conversation despite physical obstacles (wall, floors, etc.), and despite protective equipment being worn. The digitally coded wireless netowork is deployed within seconds, on a license-free radio band permiting the use of APPI-Com radios practicallly anywhere and independently.
LWP and Hands-free radio, Anywhere and Anytime! From common and familiar places to extreme work enviroments, APPI-Com with its water-tight IP67 shell, and its colored protective silicon covers can even be customized to match your style or work regulations!
Full-Duplex Radio
APPI-Com's patented radio technology allows communication in a natural way: no need to depress any button and wait your turn to talk, as with common walkie-talkies! For an unlimited number of team members, the full-duplex conversation takes place in "full conference mode". The digitally coded network is deployed at the touch of a button: your APPI-Com automatically identifies the other members of your group and starts the conference!
Hands-Free
APPI-Com operates in "hands-free" mode, without needing to touch the device to communicate, it may be worn under clothing for extra discretion, attached on a shoulder, or simply clipped to a spare pocket or the belt. Professionals may finally focus on their objectives and ignore the radio hardware being used – experience a natural coversation in all circumstances!
Simple and Secure
Sporting the size of a mere credit card, APPI-Com is not only the most compact in its class, but also the most talented! Designed to conceal its hi-technology: with a simple push of a button, the digitally coded auto-synchronous network permits a natural conversation in all situations!
Bluetooth connectivity and safety functions for lone workers: built-in "Pager" to alert your teammates, built-in " Safeline" to establish in real time who's connected or not to th "conversation", immobility detection with vocal alerts, just to mention a few.
Network Extension
Connect APPI-Com (via Bluetooth or wired) to any communication device to extend the range or share the conversation.
Confidentiality
The APPI-Com system deploys a coded digital radio network. Each APPI-Com kit is identified by a "code" that prohibits another terminal, unless authorized, to listen-in to the conversation. Terminals from other APP-Com kits, when placed in "Listen-Only" mode may or may not be authorized to listen-in on the conversation without participating in it. To ensure optimal confidentiality (special forces, corporations, large groups), a dedicated coding (option "SECURE") can be customised to create "secured groups". This configuration prevents intrusion into the conversation or even eaves-dropping on any device outside the group!
Specifications
RADIO 
Number of users per group : Ulimited
Radio range: up to 3800m
Frequency hoping (scrambled) mode
Number of channels: from 19 to 32 based on country
Free bands: 863-870 MHz or 902-928 MHz depending on country
Emission power < 500 mW. SAR: 1.1 à 1.24 W/Kg (depending of version)
Certifications : CE / FCC / IC / ATEX
SyncAll® : Full-duplex no fixed nor mobile base
FEATURES 
Integrated DSP based Noise Canceller
Pager & Man Down vocal alert (LWP)
Built-in "SafeLine" to be alerted when a connection/disconnections occurs
Bluetooth connection to headsets, phone and PMR
POWER and BATTERY
Talk time : up to 9h
Listen time : up to 10h
Charging : USB / around 1h 30′
Com&Charge option with external battery to increase your autonomy
GENERAL CHARACTERISTIC
Size : 91x48x15 mm (3.6"x1.9"x0.6")
Weight : 80 g (3 oz)
Shockproof : IK8
Watertight : IP67
Safety Technologies
Northwall, as a result of an over thirty years' experience, implements new solutions. Thanks to the application of cutting edge technologies allows innovative procedures. The purpose of Northwall is Improving the effectiveness and safety of those working in a delicate and important professional environment such as the helicopter rescue.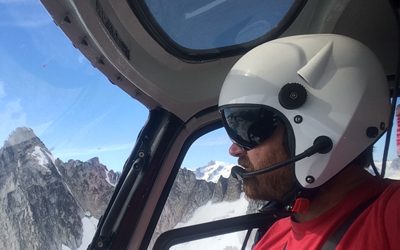 Tailor Made Process
Every patient, every task, every crew members has different requirements and needs different solutions to protect himself making tasks effective. The ability to customize and design dedicated solutions is the basis of Northwall's activity, which makes each product a devoted specimen, a personal solution.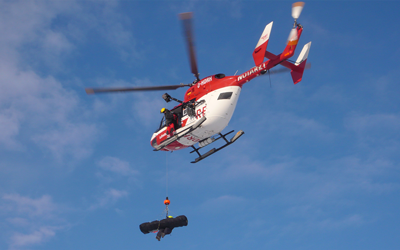 Continuous Innovation
Northwall Team, with a strong activity of R&D, works hardly to deliver to professional customers new devices and tool that could turn every action in an effective and safe one. Behind every solution there's a big effort: thousand hours of research, testing and cooperation with industry professionals, Scientific Societies, Universities and High-Tech innovation driven companies.