Divisible/foldable spine board made of Composite material and Titanium.
The mechanism and composition of Stila Twin allow the stretcher to drastically decrease its size while maintaining its mechanical strength properties and capabilities.
The conformation and folding method of Stila Twin allow all accessories to be contained within it, making it "ready to use". With unchanged characteristics and applicability of the Stila, the Stila Twin allows transportation in small size (100x47x9 cm) and weight (7.4 kg complete with all accessories) and storage in the trunk of a car, on a helicopter or other vehicle.
Specifications
Length: 186 cm
Width: 44 cm
Thickness: 0,4 cm
Weight: 4,6 kg
Height of the patient floor from the ground: 1.9 cm
Folded length: 100 cm
Folded thickness: 9 cm
Weight: table 6.5 kg , with accessories 7.4 kg
Load capacity (EN 1865-1:2015): 180 Kg
Technical standards
– Registered with the Ministry of Health as a Class I Medical Device
– Complies with Regulation (EU) 2017/745
– Complies with EN 1875-1:2015
Customization
The composite board can be customized by printing your logo during the molding process.
On Pneuspine Board the Quick head immobilizer system is applicable, able to limit the adjustments and useful to the whole range of patients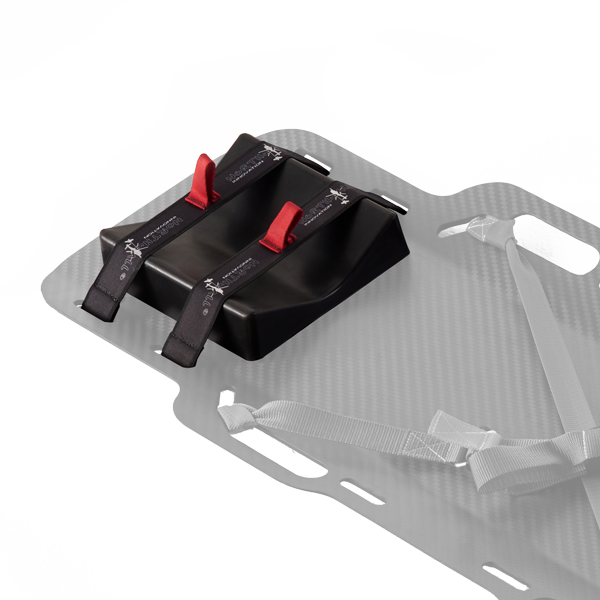 Immobilization belt system for Long Board, Pneuspine, Scoop stretchers. Quick and compact belting system ideal for rescue in any environment and on any kind of stretcher, allow the operator to fasten in seconds any size of trauma or non trauma patient. The Q-EVAC Belts can be stored permanently on the stretcher and does not require opening buckles, avoiding to forget them open.
Technical data:
Belt width: 35 mm (1 1⁄4 in)
Belt length: 300 cm (11 3⁄4 in) (x2)
Weight: 150 g (5.29 oz.)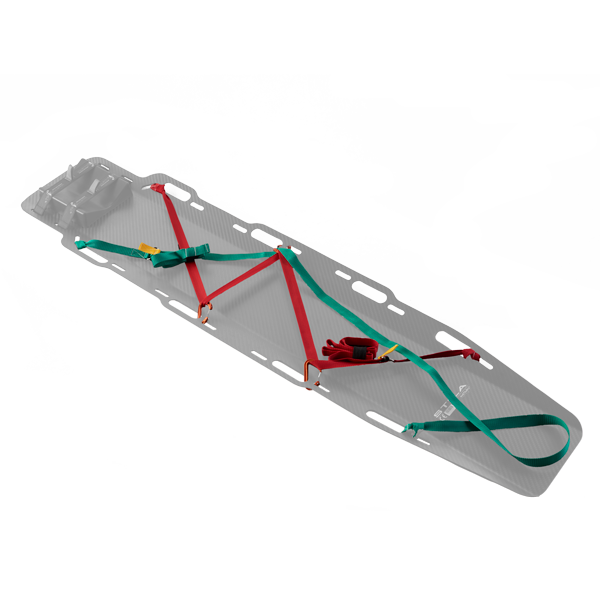 The Debris Shield comes from a dedicated system to evacuate the operator from industrial backdrops; it is useful in operations that require the board to slide over rough terrain.
ABS shield that allows the spine to slide over cobblestone or inconsistent terrain without stranding the device and protecting the patient.
Features holes that allow the use of suspension carabiners or traction systems.
Patient Retention System (SRP)
Patient restraint device to the Stila Twin spine board that allows immobilization and restraint of the patient's body in every part during rope recovery maneuvers that require temporary verticalization of the recovered person; maneuvers typical of rescue in industrial, confined or USAR environments.
Stila Twin spine board together with the SRP can be used in all eventualities typical of the use of a "basket" stretcher allowing a significant reduction in the overall dimensions and loads typical of the latter.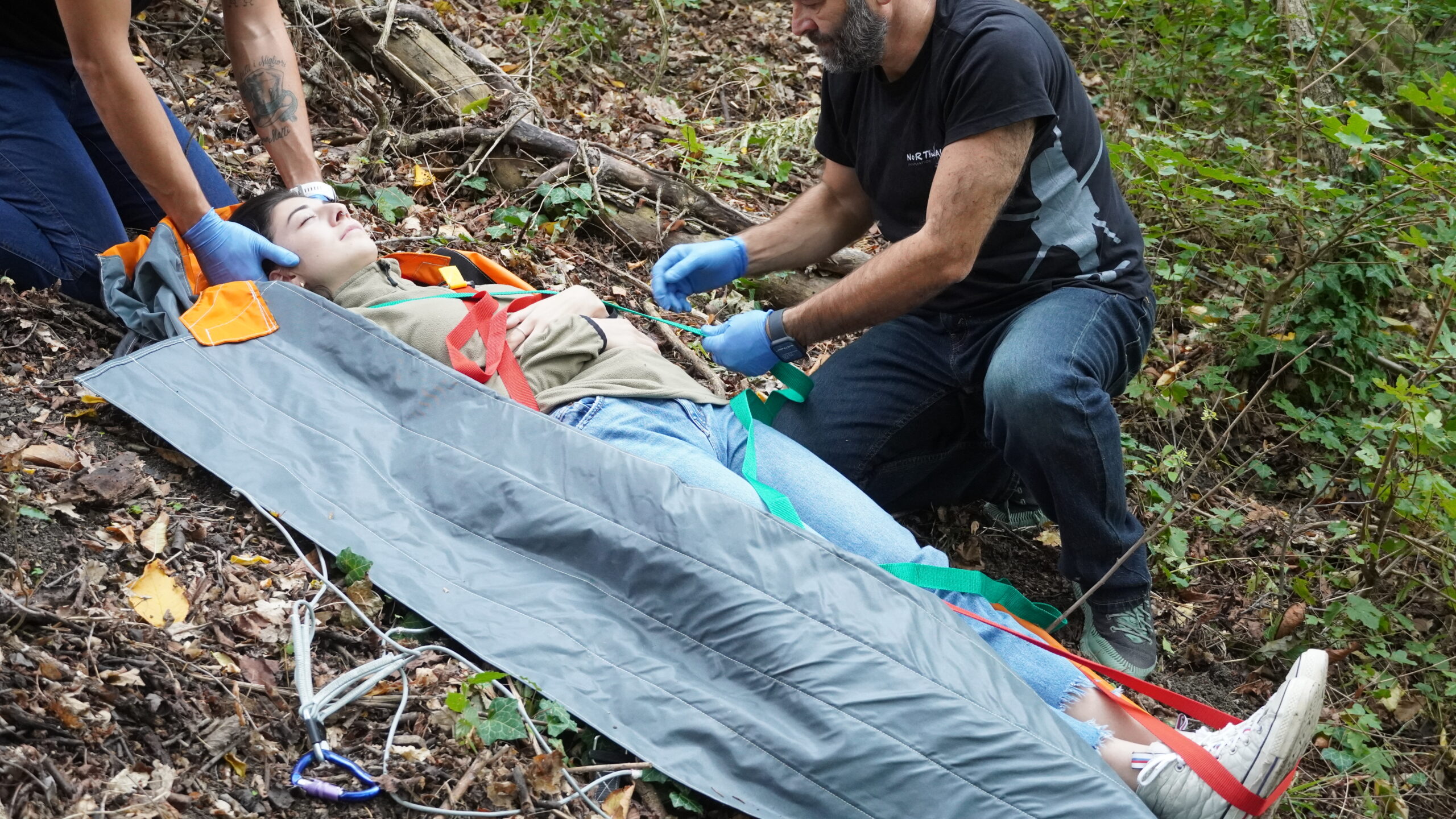 Safety Technologies
Northwall, as a result of an over thirty years' experience, implements new solutions. Thanks to the application of cutting edge technologies allows innovative procedures. The purpose of Northwall is Improving the effectiveness and safety of those working in a delicate and important professional environment such as the helicopter rescue.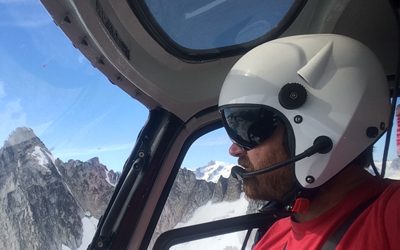 Tailor Made Process
Every patient, every task, every crew members has different requirements and needs different solutions to protect himself making tasks effective. The ability to customize and design dedicated solutions is the basis of Northwall's activity, which makes each product a devoted specimen, a personal solution.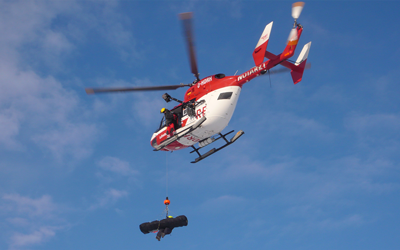 Continuous Innovation
Northwall Team, with a strong activity of R&D, works hardly to deliver to professional customers new devices and tool that could turn every action in an effective and safe one. Behind every solution there's a big effort: thousand hours of research, testing and cooperation with industry professionals, Scientific Societies, Universities and High-Tech innovation driven companies.