Emergency spine immobilization device that can be used in extrication or in combination with human external cargo harnesses for hoist or rope operations.
The Fluitans kit can be used to splint a trauma patient in deep water. The NEXT allows "extrication" maneuvers in confined spaces, ensuring quick immobilization of the patient's spine in a neutral position.
NEXT can be configured in different ways and with different patient retention systems, allowing its use as a "Utility Emergency Board". Its small size, weight characteristics and immobilization capacity in every environment and situation make the versatility of NEXT "Xclusive". In combination with the self-adjustable "rescue triangle" harness, it is very easy and quick to operate in every environment with gloves or heavy clothing.
Specifications
Length: 87 cm (34 1⁄4 in)
Width: 24 cm (9 1⁄2 in)
Thickness: 3 cm (1 1⁄4 in)
Weight: 1,5 kg (3.3 lb)
Technical standards
Certified as a Class I Medical Device according to the Directive
93/42/CEE and 2007/47
Customization
The composite board can be customized by printing your logo during the molding process.
On Pneuspine Board the Quick head immobilizer system is applicable, able to limit the adjustments and useful to the whole range of patients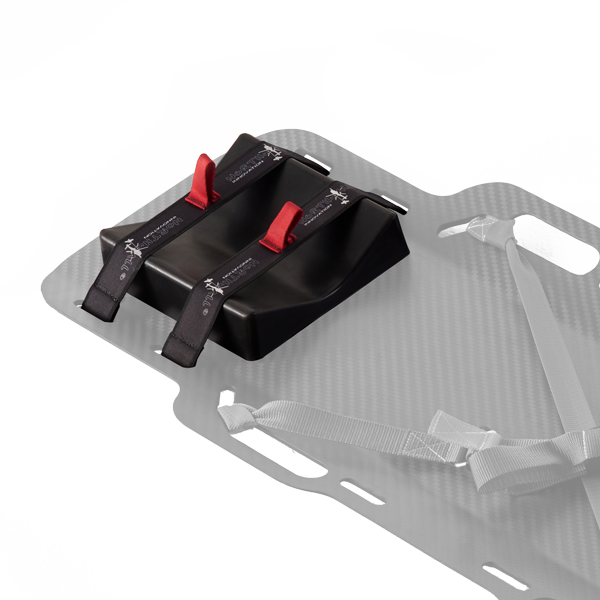 Immobilization belt system for Long Board, Pneuspine, Scoop stretchers. Quick and compact belting system ideal for rescue in any environment and on any kind of stretcher, allow the operator to fasten in seconds any size of trauma or non trauma patient. The Q-EVAC Belts can be stored permanently on the stretcher and does not require opening buckles, avoiding to forget them open.
Technical data:
Belt width: 35 mm (1 1⁄4 in)
Belt length: 300 cm (11 3⁄4 in) (x2)
Weight: 150 g (5.29 oz.)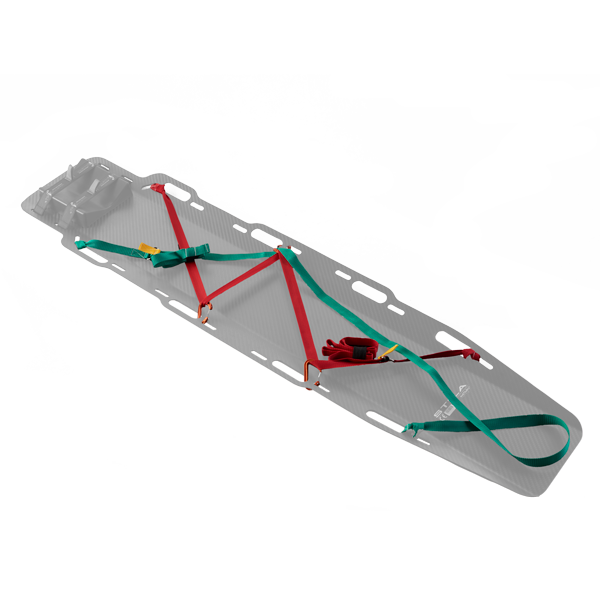 With the accessory "Fluitans" it is possible to guarantee the floatation in water even to unconscious patients, the configuration of the device allows to avoid the turnaround and protect the patient's airways.  N-E-XT Fluitans is an accessory that makes it possible to turn the N-E-XT board into a perfect spine immobilization device for water rescue operations. Compliant to the EN ISO 12402-3 and EN 396.
Specifications:
Weight: 850 g (1.65 lb.)
Inflation methods: 1 Cyl. CO2 33 gr.
Action: manual, oral
Buoyancy: 150N – EN ISO 12402-3:2010
Through the application of the dedicated Tyrah evacuation triangle, the NExt guarantees the immobilization and the support of the spine during the rope maneuvers or the hoist ops recoveries
The dedicated recovery system with rope or winch maneuver ensures the best position of the patient during handling and avoids problems related to compartment syndromes.
The NEXT system with its accessories can be transported with the dedicated hoistable bag or in standard soft bag.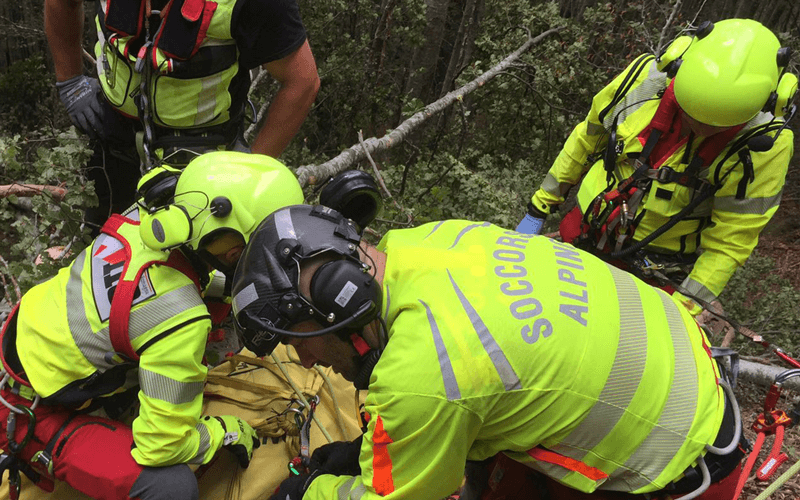 Safety Technologies
Northwall, as a result of an over thirty years' experience, implements new solutions. Thanks to the application of cutting edge technologies allows innovative procedures. The purpose of Northwall is Improving the effectiveness and safety of those working in a delicate and important professional environment such as the helicopter rescue.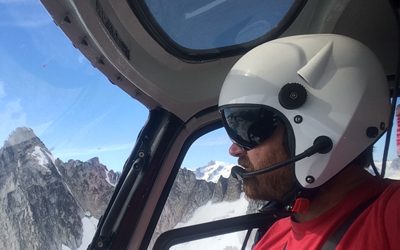 Tailor Made Process
Every patient, every task, every crew members has different requirements and needs different solutions to protect himself making tasks effective. The ability to customize and design dedicated solutions is the basis of Northwall's activity, which makes each product a devoted specimen, a personal solution.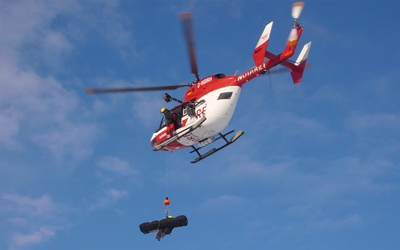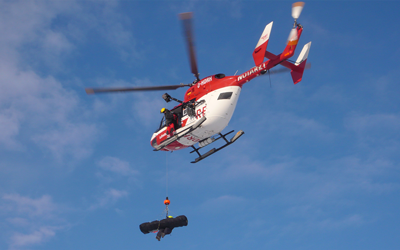 Continuous Innovation
Northwall Team, with a strong activity of R&D, works hardly to deliver to professional customers new devices and tool that could turn every action in an effective and safe one. Behind every solution there's a big effort: thousand hours of research, testing and cooperation with industry professionals, Scientific Societies, Universities and High-Tech innovation driven companies.